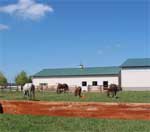 Did you ever see an unhappy horse? Did you ever see bird that had the blues? One reason why birds and horses are not unhappy is because they are not trying to impress other birds and horses.

Dale Carnegie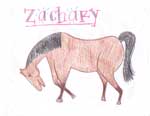 Picture drawn by a client. Read about Zachary.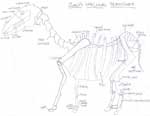 Picture of a horse's bone structure by a client.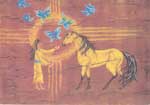 Painting of a horse.
Horse model to cut out and play with.
(Click on any photo for a larger picture)
Poem:
Thanks for being patient.
Thanks for being kind,
Thanks for being there
When others won't feel fine.
Thanks for "Reins of Change"
The cure that heals the strange,
The sick who will not eat,
The child that's in defeat.
Thanks for all you do,
Through horses that teach us too,
Examine the Reins of pains
& break the Reins of chains,
That bind the hearts from ills,
& lies that kill the wills,
Who would have thought or knew,
What a horse could make you do.
Deremiah Phillips, CPE Glenwood School for Boys